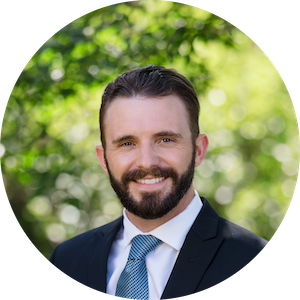 Dr. Murphy grew up on an acreage near Blair, Nebraska. He attended University of Nebraska-Lincoln for his undergraduate degree and Creighton University for dental school.
He is passionate about developing a lifelong relationship with his patients and always putting their best interests first. When he is not working or spending his free time advancing his knowledge of dentistry, he enjoys fishing, skiing, golf, and hanging out with his golden retriever, Bob. Dr. Murphy is a die hard Nebraska Cornhusker fan and attends most home football games.
WHAT MADE YOU WANT TO BE A DENTIST?
I have wanted to be a healthcare provider since age 8. My mom worked in a university hospital and I remember walking around seeing doctors and nurses everywhere and I really liked it. Following my junior year in undergrad, I learned more about dentistry and I decided it was a great fit for me so here I am.
WHAT IS YOUR FAVORITE PART ABOUT BEING A DENTIST? WHAT IS THE BIGGEST CHALLENGE?
I would say both of those answers are connected. Many people have had a bad dental experience at some point in their life and as a result, are very scared and anxious about going to the dentist. While gaining their trust is a challenge, reaching that point in the relationship with a patient is the most rewarding part of the job.
WHAT KEEPS YOU MOTIVATED?
Just trying to get better everyday in every area. I love to read and continue my education to learn more about my profession. This, in turn, benefits my patients.
WHAT DO YOU LIKE TO DO FOR FUN?
I love to workout and try to go to the gym everyday. My two main hobbies are bass fishing and golf. If anyone can suggest a cure for my slice off the tee I'm open to suggestions. I also love to ski and try to go whenever I can.
WHAT NICKNAMES HAVE YOU BEEN GIVEN BY YOUR FRIENDS AND FAMILY?
Everybody has always called me 'Murph'.
FAVORITE MOVIE?
Jurassic Park (Original) My two brothers and I quote this movie almost daily.
WHO ARE YOUR FAVORITE SPORTS TEAMS?
I am a lifelong Nebraska Cornhusker fan, and I also love the KC Royals!
WHOM DO YOU ADMIRE MOST?
Without a doubt both of my parents. They are both perfect examples of overcoming bad circumstances and being successful. They've taught me that there is no substitute for hard work.